KEZA Nova Scotia Whale Watching Tour Schedule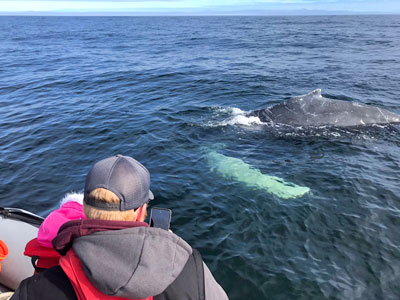 For your convenience we operate four times daily (9:30am, 11:30am, 1:30pm, 3:30pm) from
June to September
.
Tours last approximately two hours (at least 90 minutes time on the water) and the boat can comfortably transport twelve passengers. Family, group, and evening charters are available with reservation.
All passengers must wear a life jacket on board (these are provided). Warm clothing is recommended.
Please arrive 15 minutes before departure.
Tours will depart from the fisherman's wharf in Ingonish (north) and 'the ride of your life' begins. Race along coastal cliffs of the Cape Breton Highlands and interact with magnificent mammals - sometimes only a few feet from the cameras! Everyone returns satisfied.
Common Sightings on our Whale Watching Tours
Throughout the spring and summer a variety of mammals thrive on the abundance of marine life near the coastlines of Cape Breton Island. These particular areas are exceptionally rich in nutrients that attract a variety of whales, fish and other marine wildlife.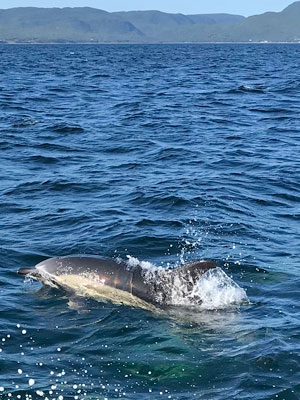 Common sightings during our whale watching tours include:
Minke Whales that are fast and often curious around boats.
Humpback Whales over fifty feet long breaching and rolling in the ocean.
Fin Whales often travelling in pods and are the second largest whale on the planet.
Dolphins that tend to be very curious and like to breach the water.
Pilot Whales commonly travelling in large pods.
Harbor Porpoises travelling in small pods (they are quite shy).
Blue Fin Tuna that can be quite large; some are over 1000 pounds!
Sun Fish that are prehistoric looking and enjoy basking in the summer sun.
Leatherback and Loggerhead Sea Turtles dining on jellyfish.
A variety of birds can also be seen throughout the tour such as
Bald Eagles
,
Northern Gannets
,
Guillemots
and sometimes even
Puffins
!